MINOX Siebtechnik GmbH is your global partner for screening, tumbler screening and air-jet screening machines.
MINOX Siebtechnik GmbH is based in Offenbach/Queich and was established in 1994 by Rudolf Detter. The first MTS 1600 tumbler screening machine was built in 1992 by MINOX Maschinenhandels GmbH and presented at the K-Messe in Düsseldorf. Tumbler screening machines from MINOX are defined by their innovative new design with pressed parts and a patented adjustment unit. Significant investment in special tools has enabled us to design and produce screening machines with lateral centring for screening frames. Ongoing development of the machines has also lead to improvements in the gaskets. The series has been steadily expanded over time and we are now able to supply machines from 600m to 2600mm in diameter. For the smaller MTS family (600-2000mm diameter) the base, lid and inlet are manufactured in one piece. Our large stock of parts means that we can always guarantee rapid delivery. Every year our 15 man production team manufactures and ships some 100 machines.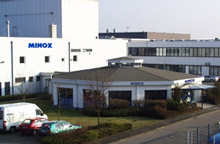 Over recent years MINOX Siebtechnik GmbH in Offenbach/Queich has grown to become one of the leading producers of precision screening machines developed in house. MINOX screening technology is defined by its creativity and dependability as well as precise engineering. We can solve the most difficult screening challenges rapidly and efficiently. A wide variety of uses in almost all industries mean that development work is continuous and dynamic. New ideas for improvements are put into practice quickly and systematically in our own factory. You can also use our range of engineering technology for testing and for your own product and process development. We have various demonstration and test screening machines available. And of course we provide professional screening services, as well as a full range of spare and replacement parts for all common screening machines. Use our experience.